A place to keep all the information of the RP, as well as a place to discuss things out of it.

---

The Concept:
Bongs, beer, and babes. The perfect picture of 1970s America...When you water it down, that is.

Just like any time period, the more you focus in, the more you'll see that it wasn't that simple. The 90s weren't all grunge and jelly shoes. The 80s wasn't all exercise videos and teased hair.

The 70s was a time of tension, forgotten by the drugs and sex that was used as a way to ignore it. The 70s wasn't just a time of love and peace.

But that also doesn't mean that there weren't people actively hoping and striving for that.

At a small high school in Wrightwood, California, the student body is...Mixed. There's the stoners and the jocks, the popular crowd and the outcasts, the nerds and the rich kids, and the hippies that float in and out of any combination of the six. But then there's the group that everyone seems to forget. They'd have a name, if anyone cared enough to give them one. But no one has.

They call themselves a number of things. "Dazers." "Lighters." "Ghosts."

Going through the motions of high school year after year unceasingly and watching the times change is a curse. But I guess that's what you get for dying on the first day of your senior year.

No one had paid them mind...Until the freshman class of the 1975-76 school year.

The goal: Find the cause for the curse and a way to break it.

caffeinatedCreep




Posts

: 6


Join date

: 2017-09-16


Age

: 19

Character sheet
Character name: Esseus Harrowen


A rather lengthy and wordy set of rules:



Follow the site rules. (Clearly.)




Minor problems in the RP will be handled by myself, but if it is needed, I will petition for the Staff to step in.




While period-typical bigotry is acceptable in the context of the RP, the same cannot be said out of the RP.




Check the list of acceptable content in the RP before joining.




Try to keep the human-ghost character ratio balanced.




Fully fill out the character list before submitting!




If your character is rejected, you have two options: take suggestions and change your character, or drop out.




Characters that are part of a minority are allowed, as long as you are able to play them properly.




There will be no super powers outside of what is normal for ghosts and/or the paranormal.




Absolutely no god-modding.




The style will be lit-paragraph, and the post minimum is four sentences.




Use your best vocabulary and grammar, please; make sure to stay true to the period!




A post order will eventually be created and must be followed.




You must have a character that is either one of the freshman that can see the Ghosts, or one of the Ghosts themselves.




You may have up to two characters, as long as the first one fits the rule stated above.




Any non-freshman/non-Ghost characters can be either in the other three grades -- since not all seniors are Ghosts, but all Ghosts are seniors -- or a faculty member.




caffeinatedCreep




Posts

: 6


Join date

: 2017-09-16


Age

: 19

Character sheet
Character name: Esseus Harrowen


Acceptable Content



Non-graphic drug use




Non-graphic depictions and/or descriptions of violence




Use of small kinds of magic typical to ghosts and/or paranormal creatures




Romance; however, it must be properly built and developed, as well as consented to by the owner(s) of the character(s)




Implied sexual content; just like it is stated in the rules, it cannot actually develop into the act of it




Sparing and period-appropriate references (and occasionally use) of bigoted speech; this is very highly recommended to be kept to a minimum, especially use of slurs



Not Acceptable



Blatant and/or pedophilic sexualization of underaged characters




Graphic drug use




Graphic depictions/descriptions of violence




Inappropriate use of bigotry and/or slurs




Superpowers




Godmodding




Blatant sexual content




Fetishization




caffeinatedCreep




Posts

: 6


Join date

: 2017-09-16


Age

: 19

Character sheet
Character name: Esseus Harrowen


Blank Character Sheet
Full Name:
Nickname(s):
Human or Ghost?:
Race/Ethnicity:
Age:
Grade:
Gender:
Pronouns: (If needed)
Personality:
Appearance:
Sexuality: (If needed)
Back story blurb:
Fun fact:

caffeinatedCreep




Posts

: 6


Join date

: 2017-09-16


Age

: 19

Character sheet
Character name: Esseus Harrowen


hey! i'd love to join if you dont mind!
Ailen m. Mullberry
human
asian
16
10
demiboy
he/it/they
generally reserved, paranoid due to his
schizophrenia, calm, loves plants
gay
has lived an overall normal life, he lives with his mom and sister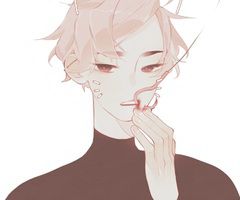 Similar topics
---
Permissions in this forum:
You
cannot
reply to topics in this forum